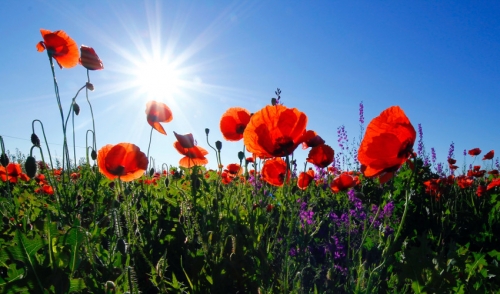 Gardening may be a time-tested, classic hobby that has been popular for generations, but that doesn't mean it stays the same from year to year. With new plant cultivars, greater awareness of environmentally-friendly practices, innovations in tools and techniques, changing dietary needs and different taste preferences, what gardening trends are taking root in 2018?
Big Gardening in Small Spaces
Large, sprawling yards are less and less common in 2018, and more urban dwellers are faced with small spaces for their big gardening ambitions. Container gardens continue to grow ever more popular, and specialized balcony gardens and vertical gardens are additional ways to optimize small spaces this year. Layering plants and choosing miniature and dwarf varieties are great options to feed a big gardening urge in a smaller space.


Gardens as Wildlife Habitats
As awareness grows about the plight of bees and butterflies, more gardeners are embracing techniques that encourage sharing their garden space with native wildlife. Many gardeners are choosing even more wildlife-inclusive strategies that also help create habitats for visiting birds, frogs, turtles and bats, such as installing appropriate houses for these guests as well as choosing wildlife-friendly plants and avoiding chemicals that can hurt visitors.


Unusual Edibles
Gardens no longer mean simple, basic food staples or a few accessory herbs. With more seed and seedling exchanges, the ability to order rare varieties online and other ways to expand your garden's diversity, many gardeners are opting to plant outside their comfort zone and try new tastes and hybrid plants. This is a great way to incorporate more fruits and vegetables into a healthy diet, discovering new favorites along the way.


Meditation Spaces
Turning gardens into multi-purpose spaces is a hot trend in 2018, and meditation spaces are some of the most popular options. Use flowing curves rather than straight lines to lend a sense of natural grace to your garden, and consider Zen gardening techniques to add symmetry and poise to your plantings. Incorporate a peaceful spot such as a meditation bench, yoga space or even a small reflecting pool to turn any garden into a restful sanctuary.


Planting for Privacy
With smaller yards and more people living in the same space, privacy is paramount in 2018. Instead of a basic fence or other blunt barrier, gardeners are opting for green walls, climbing vines and other natural barriers as part of their landscape. Living walls absorb sound and help ease temperatures, and choosing thorny plants can even provide heightened security around windows to ease homeowners' tensions and worry.


Great Love for Groundcovers
Mowing the lawn is never a favorite gardening or landscaping chore, and more gardeners are embracing attractive groundcovers rather than turf. With different textures, colors and shapes, groundcovers add beauty and interest to tight or difficult spaces such as narrow side yards, terraces or challenging soils. Hardy, high-use groundcovers are also a great option for pathways instead of harsh pavers or muddy patches.


Bringing the Outdoors In
While windowsill herb gardens have been popular for years, a greater variety of houseplants and container vegetables are being welcomed into different rooms, including bedrooms, bathrooms and offices. These plants clean the air and promote a sense of peace even when gardening outdoors isn't possible. Even miniature tree varieties are finding new indoor homes, giving gardeners plenty of opportunities to flex their green thumbs inside as well as out.


Winter Wonderland Gardens
Gardening isn't just for spring and summer anymore, and in 2018 gardeners are pushing the calendar envelope to enjoy their gardens year-round. This means looking for early- and late-blooming flowers or early- and late-season vegetables, as well as choosing plants that will provide winter textures and colors to enjoy with unique barks, branch shapes and growth habits. As always, evergreens remain a popular part of year-round gardening.
Whatever your gardening plans may be for 2018, there is a trend that can help guide you to new and exciting opportunities. Visit your local nursery or garden center to see this year's newest options, and if none of them turn you green with envy, consider your own unique garden desires and start your own trend for other gardeners to love!